2017.08.05
A man on a bulldozer(1/4) – Entrepreneurship at Tasmanian Whisky Distilleries REPORT #1: BELGROVE DISTILLERY

http://belgrovedistillery.com.au/
A man on a bulldozer
Chapter 1:A man on a bulldozer
It was a little before noon time when I arrived at Belgrove Distillery. For a first-time visitor to Tasmania, it was somewhat concerning to visit the suburban area by a rental car, but the beautiful scenery along the Midland Highway soon vanished that concern away. From the entrance, I drove onto the long, unsurfaced road, and finally arrived at a place seeming like a farmer's workplace or a carpentry workshop.
"Wow… Is it really the one I was aiming at? Where's the distillery?" thought I, and I parked a car next to a gigantic red tractor. Then, all of a sudden, I noticed a big bulldozer moving slowly through the vast farm land and coming toward where I was. Another concern pop up in my mind. "If this was just a farmer's private property and I stepped in there without getting any approval, this might become a trouble…" So I waved my hands fully to show I was a friendly visitor. The person driving the bulldozer waved his hand back to me, and I was relieved.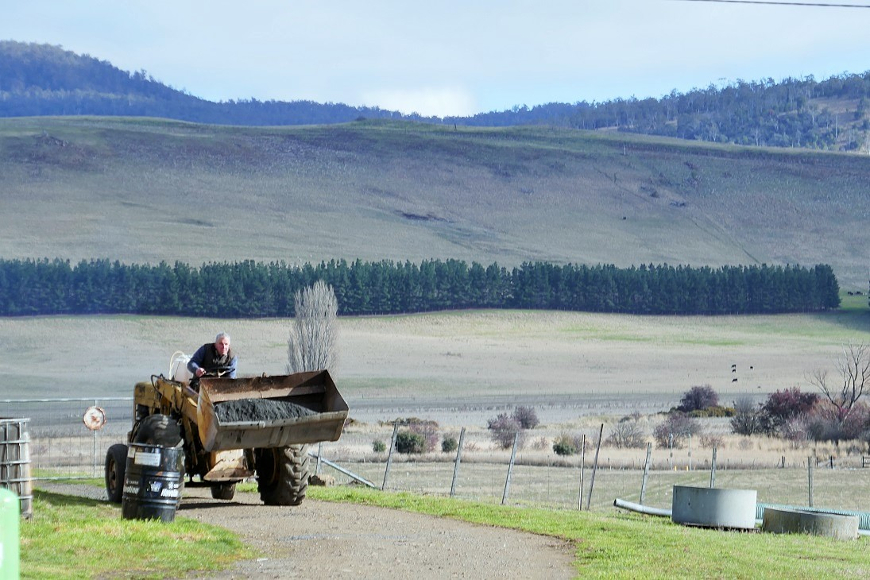 "I am Komo, came from Japan. I think ah… a friend of mine in Melbourne named Kelvin Low made an appointment for me with Mr. Peter Bignell," said I. Then from his welcoming gesture on top of the bulldozer, I understood he was Peter Bignell, the very person I was looking to meet. After finishing some works on the bulldozer, he stepped off and approached me with a gentle, welcoming note. We shook hands, and immediately I noticed it was a farmer's hand. As I myself also do some farming works in Japan, I did know how it would look like.
That was how I met this great entrepreneur for the first time.